FILM AND VIDEO PRODUCTION
WEBSITE DESIGN AND DEVELPMENT
INTRODUCTION
Fooligan, a YouTube Content Creator, joined the YouTube community in 2015. In a ridiculous fashion, Fooligan released his first moto vlog video in the winter month of December. Having a personal connection with the entertainer, we reached out to him discussing his aspirations with his YouTube channel that had at the time a subscriber count of 219.
In the review of his channel, we noticed some design discrepancies which we recommended to be corrected before he gained a large national and international recognition for his ridiculous antics. Working closely with Fooligan we designed a new original logo, brand colors, and a simple one-page website. Fooligan Moto Vlogs quickly began to capture the attention of the moto vlog community, as well as his home city in Nebraska, with his foolish antics and now has a subscriber count over 1.4 million.
LOGO DESIGN
The inspiration for the Fooligan logo.
Fooligan began his YouTube career riding the streets of his home city of Omaha, Nebraska on his 2015 Honda Grom. Throwing a nod to Honda, we designed his brand colors to compliment the primary Honda red.

BRAND CONSULTING
Creating a freedom to make brand decisions.
In creating a brand for Fooligan, we wanted there to be a freedom to make design decisions best for the community he was building, his subscribers and followers. So we provided a couple of guidelines, then discussed throughout the years his progress giving guidance to the creative direction. During those discussions, we created products and continue to discuss new product ideas for his brand.
WEBSITE DESIGN AND DEVELOPMENT
A simple website to diversify traffic.
With the majority of his web traffic on YouTube and social media, we created a simple one-page website. The website shows his latest video, sponsorships, social media handles, and a link to his store. A one-stop for everything Fooligan.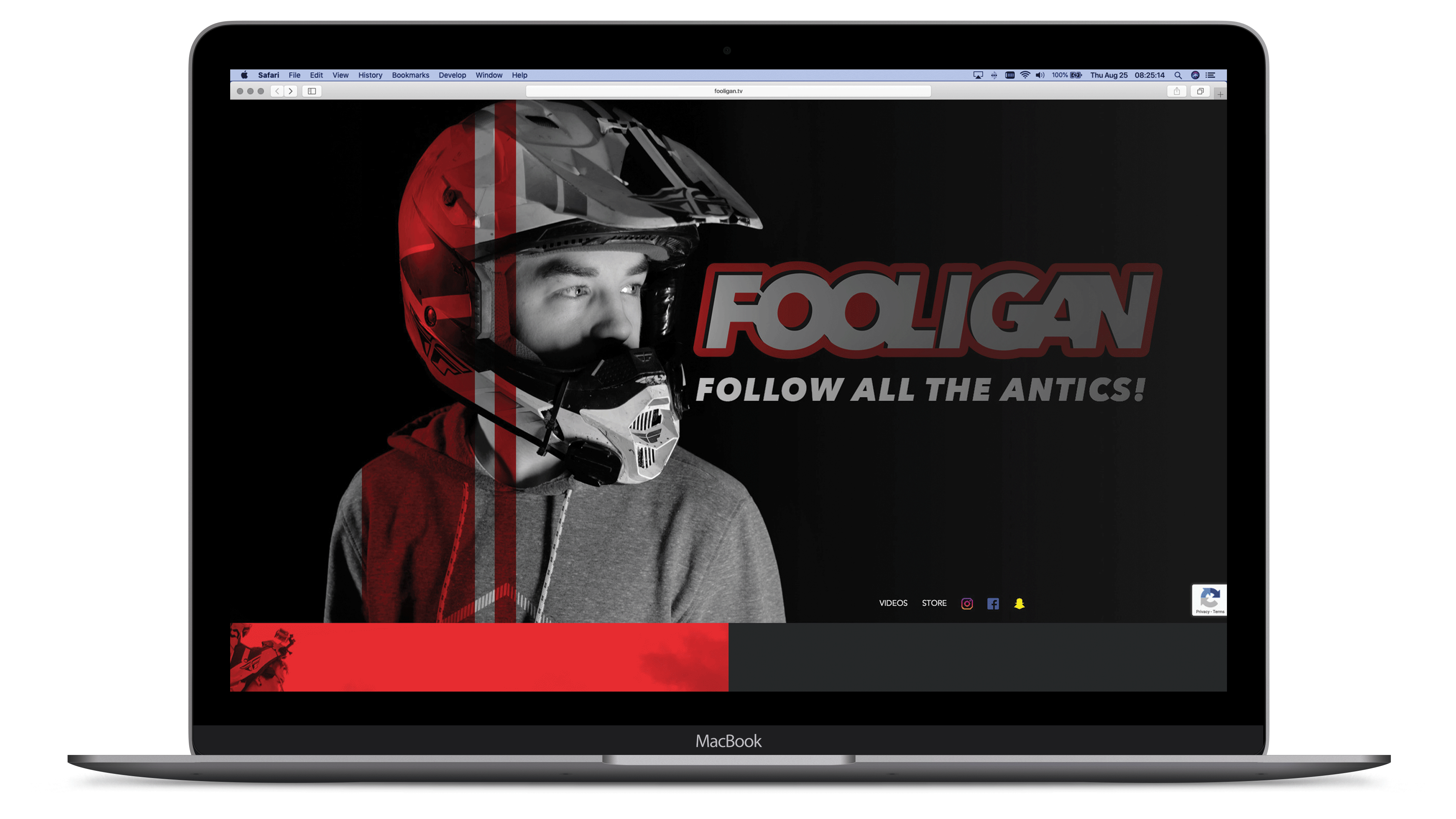 FILM AND VIDEO PRODUCTION
Filming the ridiculous antics of a YouTube Content Creator.
In brainstorming content ideas with the YouTuber, some crazy ideas were presented. One, in particular, stood out, Grom Mario Kart. With a group of his friends and their Honda Groms, we traveled to Des Moines, Iowa for filming at an undisclosed go-kart facility. We set up a multicamera setup, a total of 11 camera's to capture the race. The project was fun to film for us at Klar, Inc., but also for the guys in the film. It's not every day you are able to ride a Honda Grom on a go-kart track.
The second film produced for Fooligan was the makeover reveal of his Honda Grom, known as Kevin. Previously Kevin was painted a yellow and black and named after one of the minions from Despicable Me. Over the winter months his motorcycle received an overhaul with new parts and paint to match his primary brand color of red. Utilizing an empty warehouse, we filled the space with some haze small lighting and filmed a close up reveal of Fooligan's Grom, still named Kevin.
SHARE
---
---
Feeling confused or overwhelmed with developing your brand?
We will help you develop a clear brand for a strong, inspired, and passionate community.
"Klar, Inc. has helped me develop my ambitious ideas that took me from 219 YouTube Subscribers to 1.1m plus."
Fooligan, YouTube Content Creator