BRAND CONSULTING AND DEVELOPMENT
INTRODUCTION
Jones Washing Solutions specializes in washing concrete, houses, driveways, patios, decks, porches, cars, trucks, heavy equipment, and more. Located just over the river from Omaha, Nebraska in Council Bluffs, Iowa, Jones Washing Solutions services the Omaha Metro area with quality pressure washing.
BRAND CONSULTING AND DEVELOPMENT
A clear and simple brand that supports cleanliness.
Jones Washing Solutions contacted our Principal at the early stages of developing their business. With no visual identity, the canvas was blank ready to be filled with a new visual identity.
In addition to keeping with the client's mission and vision as a cleaning service business, we felt it necessary to hold true to our mission as well, clarity by simplicity. Their brand needed to remain clear and simple with a clean visual appearance. Also, we believed the brand voice needed to be playful in words but not silly or crude, which has the possibility of alienating potential clients.
VISUAL IDENTITY
The identity is found in water.
Creating a signature mark for Jones Washing Solutions presented a challenge, how to not look like every other pressure washing company. The typical logo design used a pressure washing wand, water spray, a splash, or combining them all into one logo.
Our goal is to create a unique mark that can remain strong visually in one color. When designing the mark for Jones Washing Solutions we chose to replace the letter "O" in Jones with a simple and clean waterdrop that used the typeface's "O" as its foundation. The design enabled the logo to be in either one color or in its primary two-color format.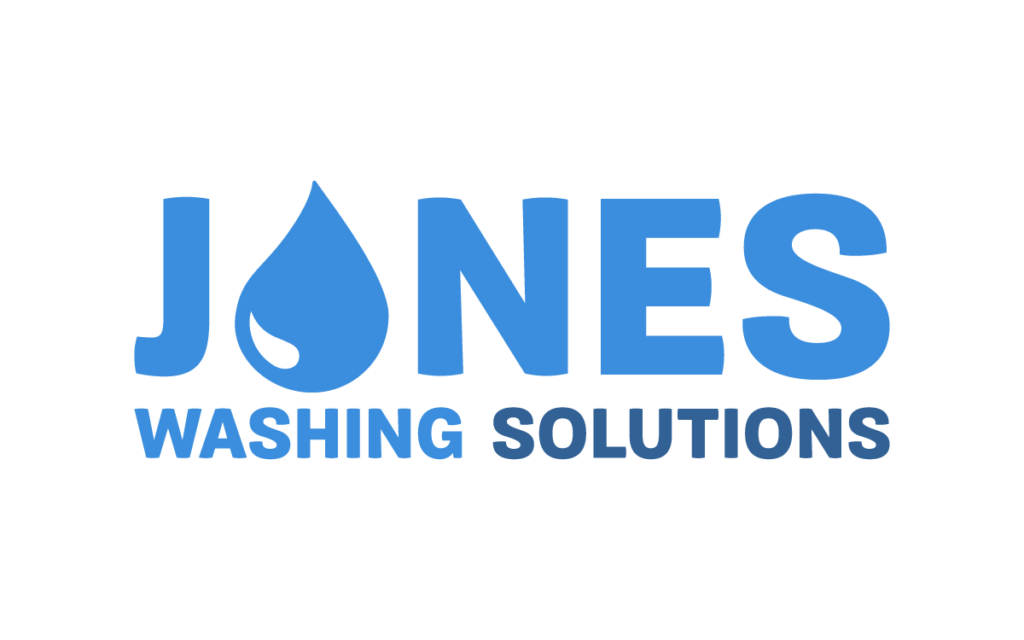 Colors convey confidence in Jones Washing Solutions to maintain a clean home or commercial exterior.
Providing services to power clean both residential and commercial property and equipment, the color palette selected conveys confidence in the brand to complete the provided services. Two versions of blue, two versions of grey, and a bright yellow brings the brand's visual elements together. Blue as the primary brand color is used in the waterdrop design elements, headlines, call to actions, weblinks, and more. The two versions of grey are used primarily as a gradient overlay to all images, as seen in the next section covering Advertisement Design, while Spotless Dark Grey is used for text on white. The Spotless Yellow is a secondary color used for website buttons.
PRIMARY COLORS
Spotless Dark Blue
HEX #326195
Spotless Dark Grey
HEX #53575c
SECONDARY COLORS
Spotless Yellow
HEX #ffd141
Spotless Black
HEX #222222
A typeface representing the spotless service.
The typeface Quiroh was chosen to represent the Jones Washing Solutions brand in both the wordmark and in body copy. Including multiple weights, heavy display weights for Subheads, and lighter weights for headlines and copy, it's a perfect typeface to communicate the brand.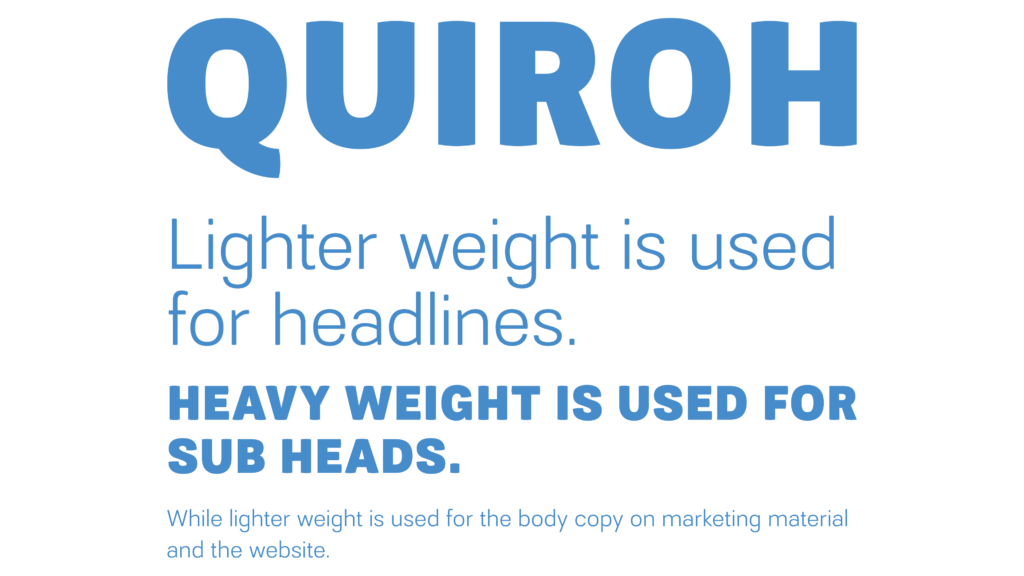 ADVERTISEMENT DESIGN
The Jones Washing Solutions brand in action.
SOCIAL MEDIA DESIGN
Going social with washing solutions.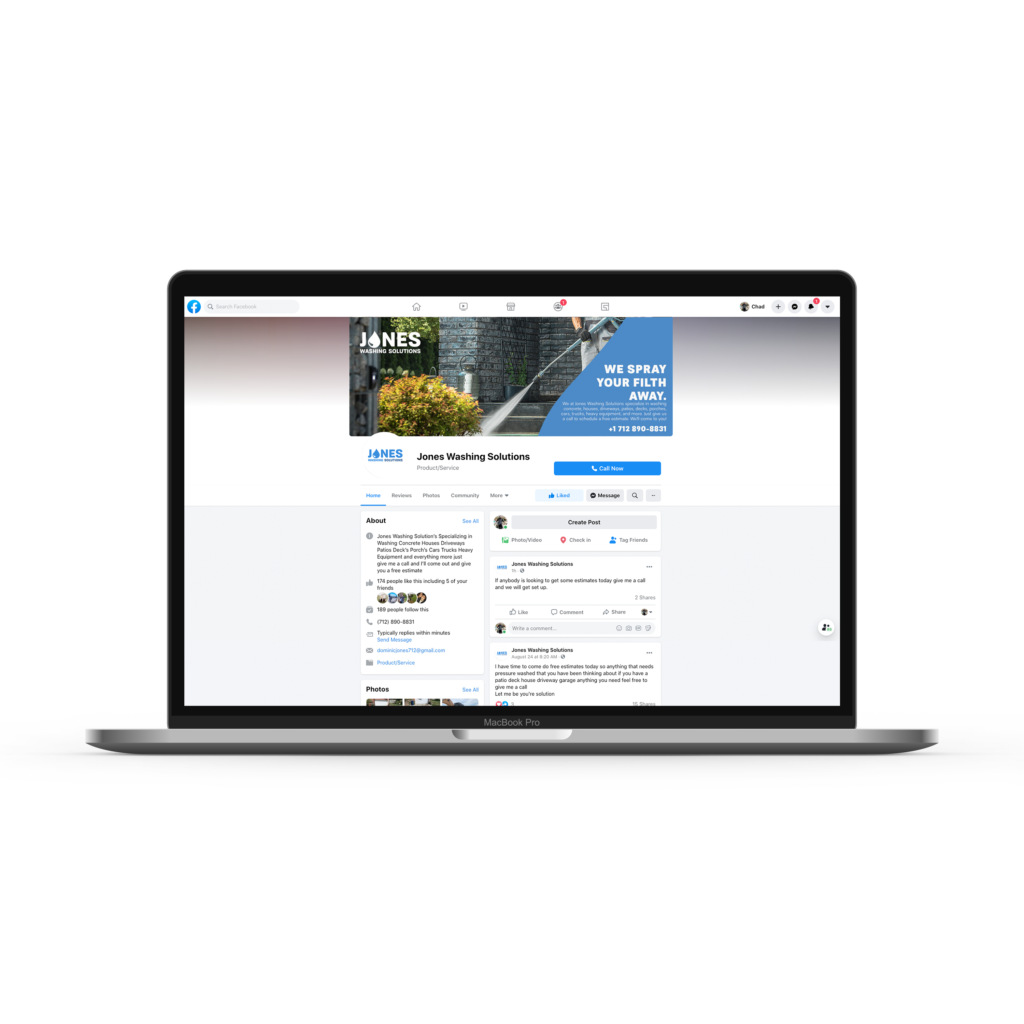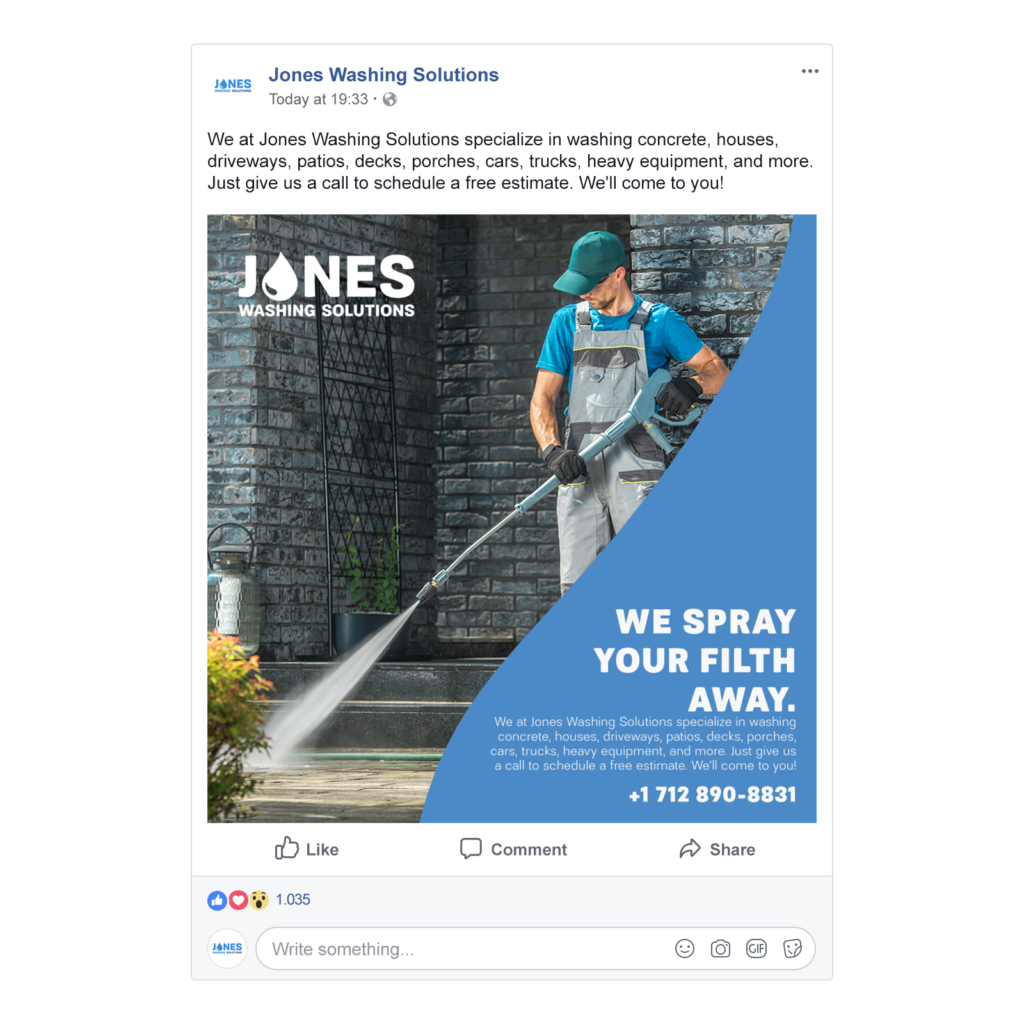 WEBSITE DESIGN
Taking the design to their new digital home.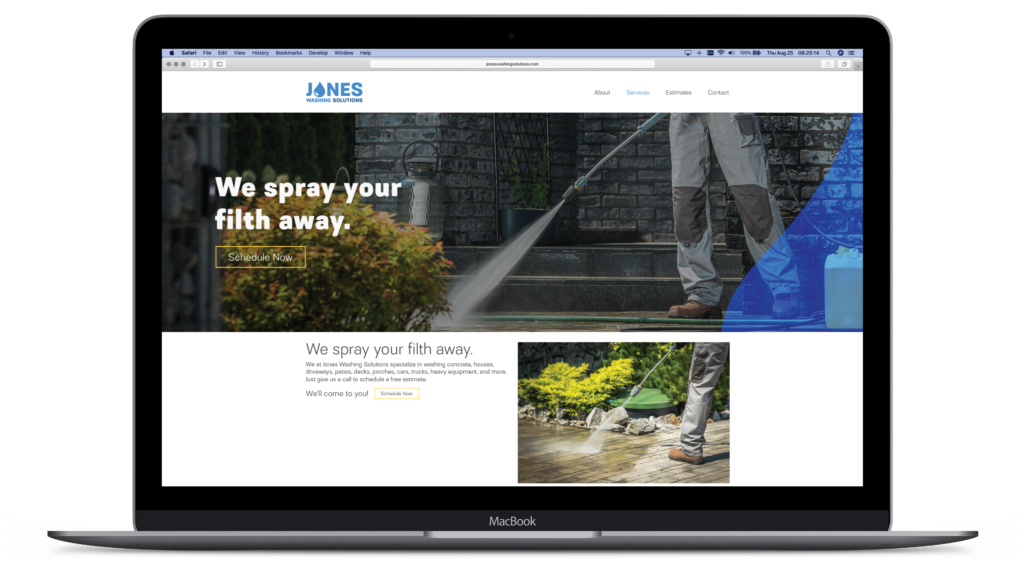 SHARE
---
---
Feeling confused or overwhelmed with developing your brand?
We will help you develop a clear brand for a strong, inspired, and passionate community.
"We were so impressed with Klar, Inc. and the incredible work they provided for Chariots4Hope. AMAZING work AND went above and beyond. We are so blessed to work with Klar, Inc. Highly recommend!"
Michelle Hurt, Co-Founder of the non-profit Chariots4Hope