INTRODUCTION
The Omaha Municipal Land Bank located in Omaha, Nebraska is a governmental not-for-profit organization working to acquire vacant, abandoned or derelict properties throughout Omaha to either renovate or demolish for future use or growth. 
PRINT DESIGN
Our relationship began with a strategic summary document.
Klar, Inc. was asked to design the layout of the Omaha Municipal Land Bank's Strategic Summary document which would be shared with potential donors and individuals who had an interest in the Land Bank in Omaha. While formatting the document, discussions turned to create a mark for the cover of the document, a mark unique to the organization and Omaha.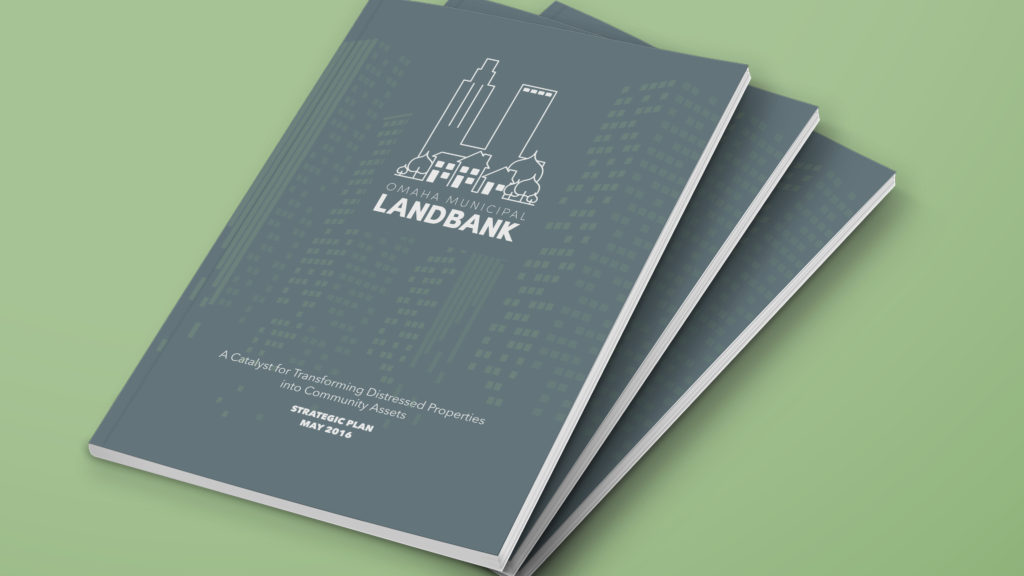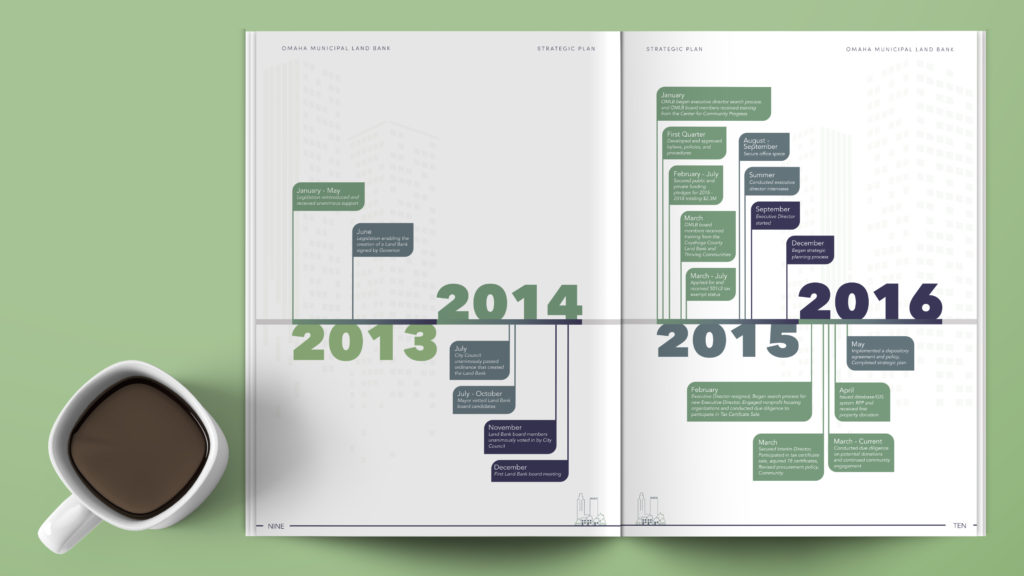 LOGO DESIGN
A unique mark anchored to the Omaha Municipal Land Bank's city.
We discovered a trend in other national land banks during our initial research for the Omaha Municipal Land Bank. Multiple Land Bank logos would typically consist of designs representing a field, farmland, small plant, and/or a house. With Omaha being the largest city in Nebraska, farmland and fields were not part of the landscape in which the Omaha Land Bank would be serving. Their offices located in the downtown district, the primary need to transform Omaha's distressed properties into positive community assets were located in the north district.
The logo is comprised of a symbol and a wordmark. The symbol created for the Omaha Land Bank utilizes three elements. Omaha skyline is comprised of two recognizable high rises; the Woodman Tower and the First National Bank Tower. An outline of the two towers forms the first of three elements. The second element created for the mark was the different size houses representing the multiple types of neighborhoods throughout the city. The final element of the three was the tree, designed from the leaf of the Cottonwood, which is Nebraska State tree.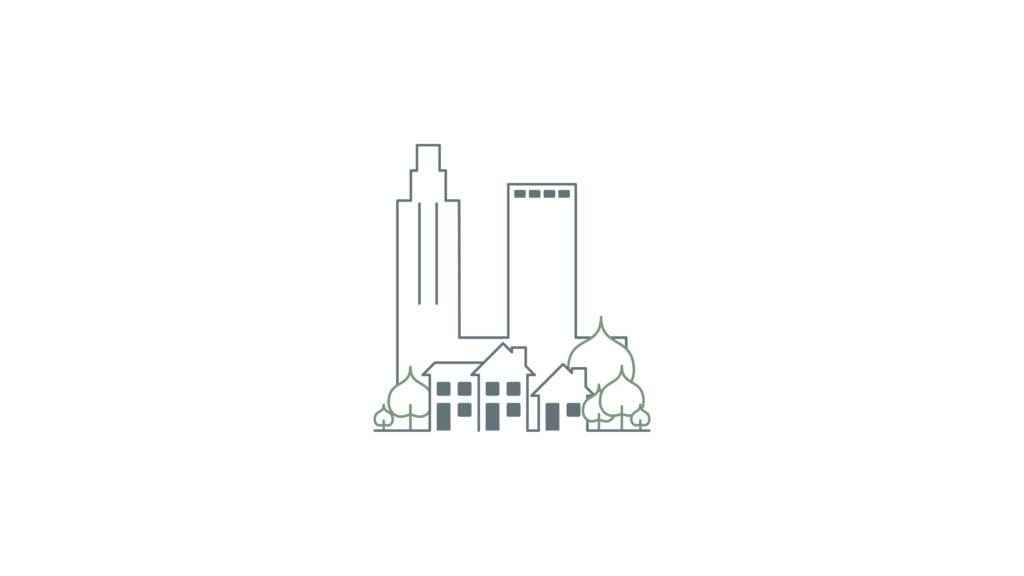 When creating the wordmark, we chose a geometric typeface redesigned in 2012 which consisted of multiple font options. The font options allowed us to create a foundation for the symbol to sit upon. Placing the wordmark under the symbol, signifying the strength in which the Omaha Municipal Land Bank would create to the city of Omaha's distressed properties.
Used together, the symbol and wordmark form the logo for the Omaha Municipal Land Bank.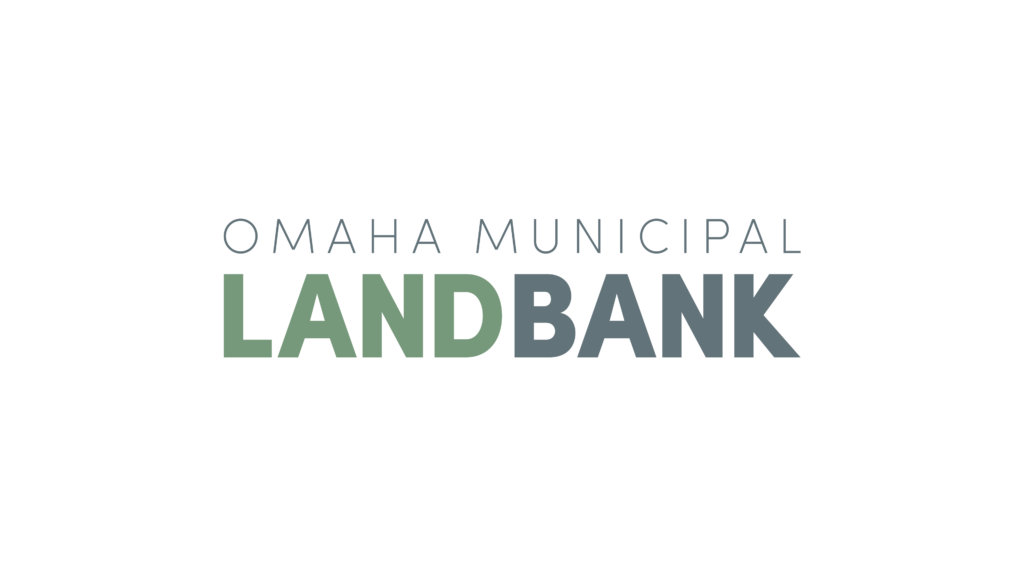 Once officially formed and funded, the Land Bank partnered with another local firm for their communication efforts. Brand colors were altered, however, the initial logo created for a Strategic Summary document has remained and is still in use today.
A clean color palette of earth and sky.
For the Strategic Summary document and logo, we used a simple, clean color palette consisting of four colors. The logo used the two primary colors of green and blue, while the document added a shade of each color.
Land Bank Green,
Secondary
SHARE
---
---
Feeling confused or overwhelmed with developing your brand?
We will help you develop a clear brand for a strong, inspired, and passionate community.
"We're thrilled to use the services of Klar, Inc. at Omaha Land Bank. Their insight is amazing and we're thrilled with our communication and marketing strength gained by working with them."
Marty Barnhart, Executive Director of the Omaha Municipal Land Bank