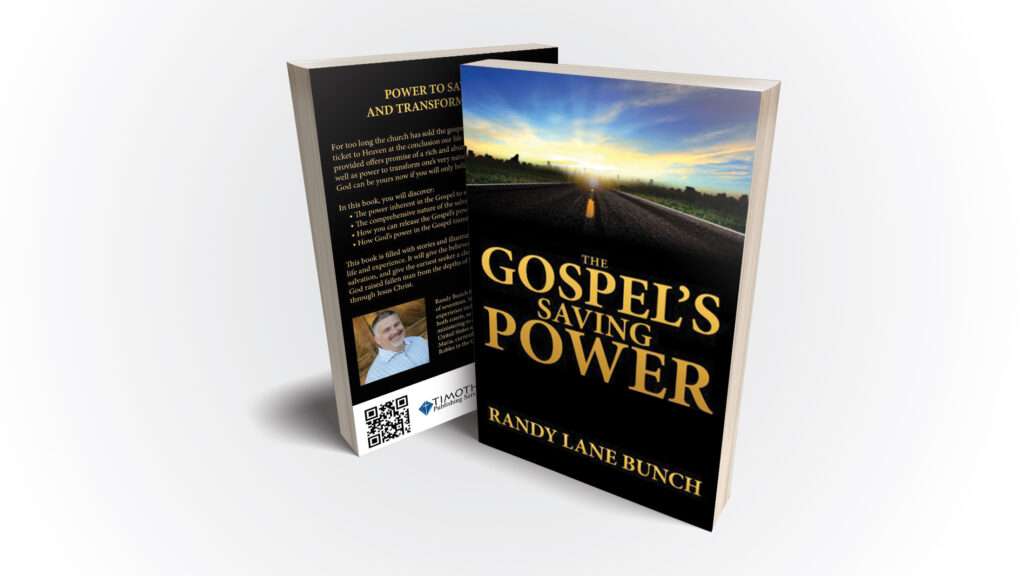 INTRODUCTION
Dr. Randy Lane Bunch has served as pastor, church planter, author, and professor in his more than 30 years of full-time ministry. He has written extensively, authoring several books, including The Gospel's Saving Power.
BOOK COVER DESIGN
The Gospel's Saving Power by Randy Lane Bunch
Our Principal was commissioned under the direction of Timothy Publishing services in Tulsa, Oklahoma to design Randy Bunch's second book entitled "The Gospel's Saving Power.
POWER TO SAVE, HEAL, AND TRANSFORM YOUR LIFE!
For too long the church has sold the gospel short. More than a quick ticket to Heaven at the conclusion of our life on earth, the salvation God has provided offers the promise of a rich and abundant life for the here and now, as well as the power to transform one's very nature. The eternal, abundant life of God can be yours now if you will only believe the good news! This book is filled with stories and illustrations from Pastor Randy's life and experience. It will give the believer a new appreciation of their salvation, and give the earnest seeker a clear understanding of how a loving God raised fallen man from the depths of his own depravity to reign in life through Jesus Christ.
Randy Bunch began his ministry at the age of seventeen. Now, over thirty years later, his experience includes pioneering churches on both coasts, as well as traveling extensively and ministering to congregations throughout the United States and abroad. Randy and his wife, Maria, currently pastor Northeast Christian Church in the California Central Coast.
(The above text was taken from the back book cover of "The Gospel's Saving Power" by Randy Lane Bunch.)
To learn more about Timothy Publishing Services in Broken Arrow, Oklahoma visit TimothyPublishing.org.
SHARE
---
---
Feeling confused or overwhelmed with developing your brand?
We will help you develop a clear brand for a strong, inspired, and passionate community.