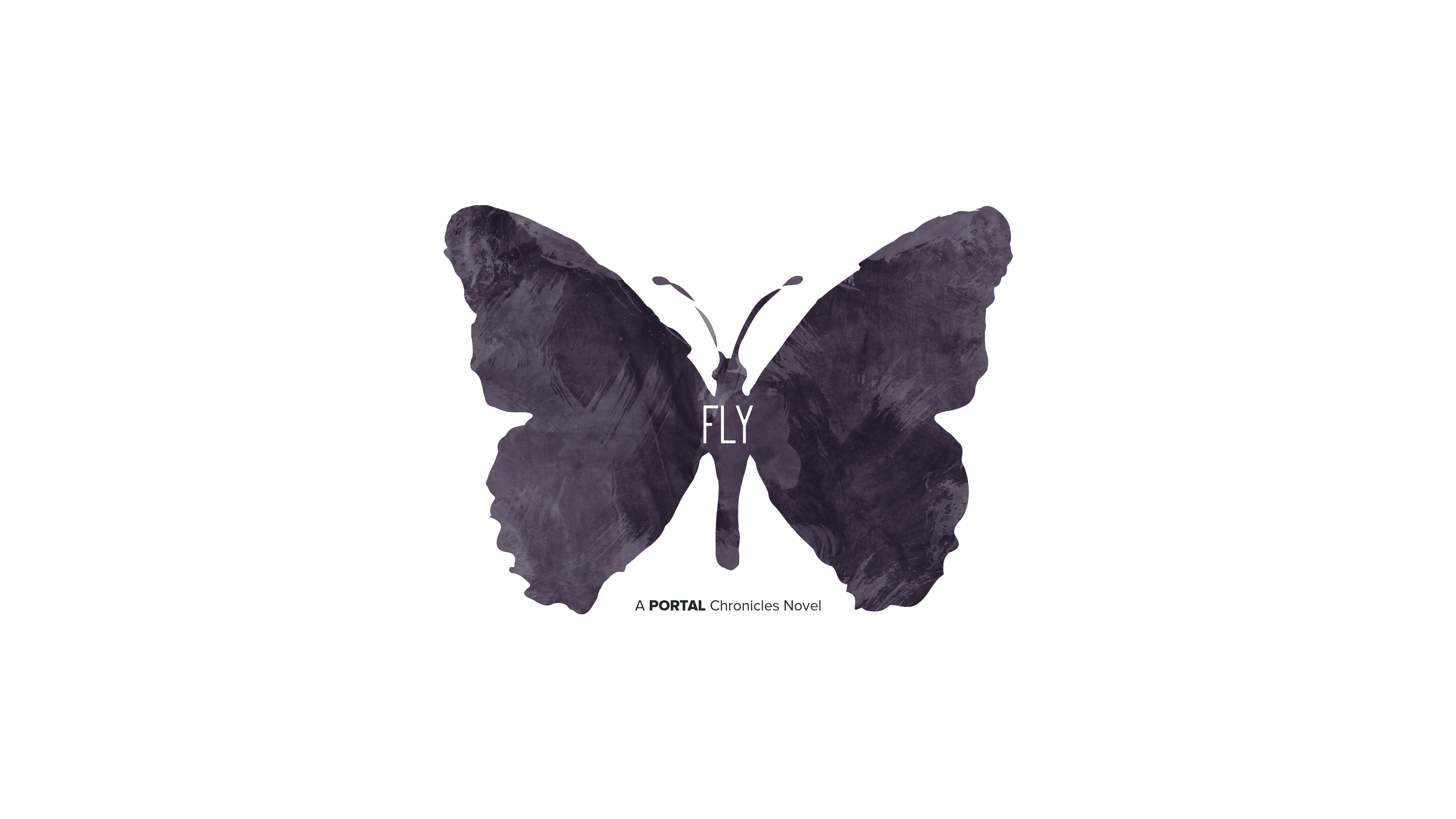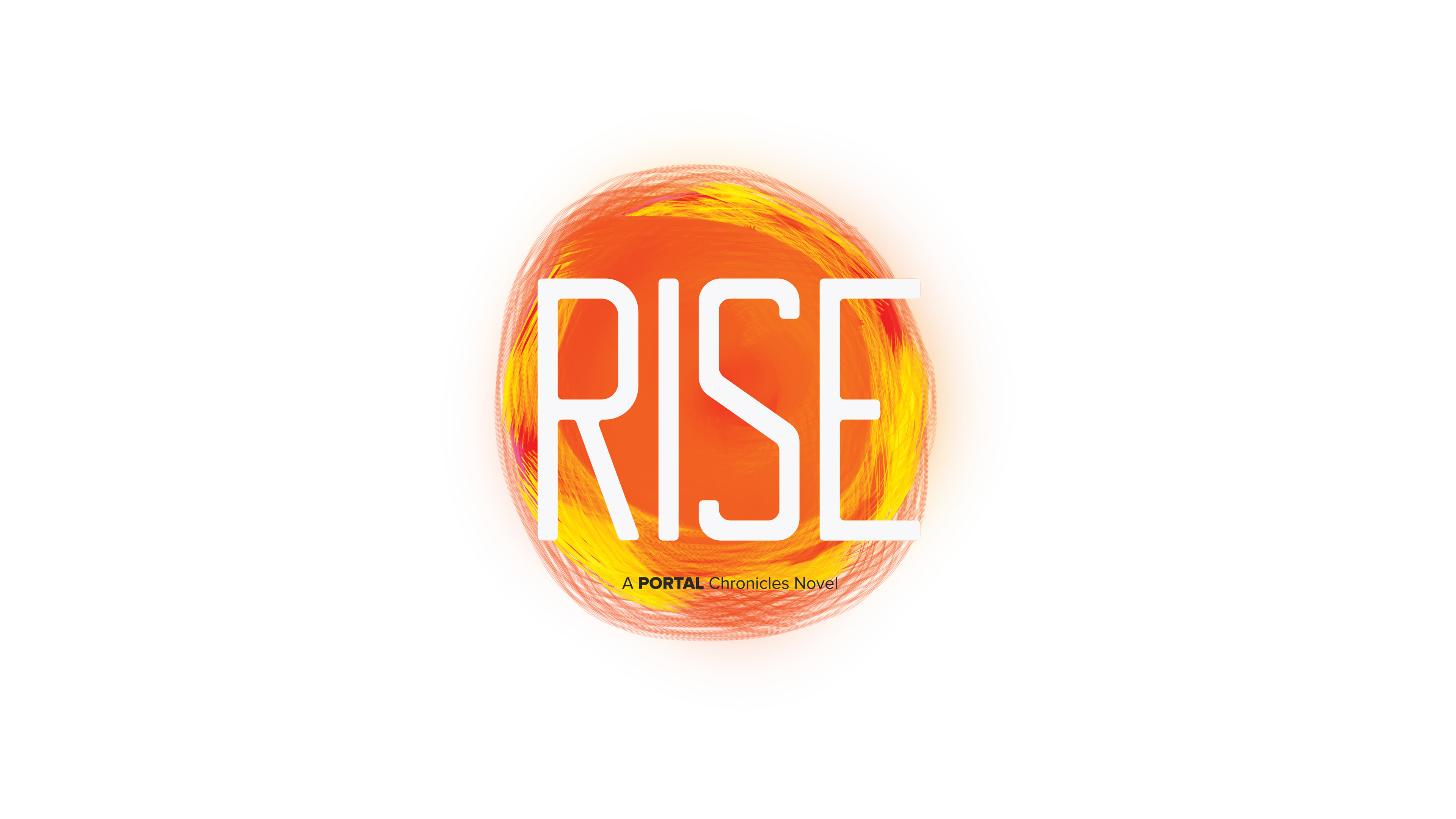 WEBSITE DESIGN AND DEVELOPMENT
melissaminassian.org
INTRODUCTION
Melissa Minassian is a young adult author, writing and storytelling from her earliest memories. She was raised in a creative environment where imagination and fantasy were encouraged and inspired. In high school she became the youngest reporter to write for her local newspaper, going on to secure a Journalism degree. Sparked by divine inspiration, she began to write her first Young Adult novel of "The Portal Chronicles" series. 
BOOK COVER DESIGN
The first novel in "The PORTAL Chronicles", Fly.
Fly: A PORTAL Chronicles Novel is a young adult novel that takes readers on an adventure, exploring the bonds of family, faith, and love through two points of view: Sophie, an insecure, typical teenager who discovers she's truly not so typical, and Everett, the nineteen-year-old PORTAL agent struggling with many secrets, including his forbidden love for Sophie and his ability to see into her dreams. Sophie Cohen is finally alone with her longtime crush Everett Sinclair when, instead of whispering sweet nothings, he begins sputtering incoherencies that leave her reeling. He's an undercover agent for the Paranormal Research Task Force and Anti-Warfare League (PORTAL). What's more, he's been assigned to protect her from the ruthless Lucian Divaldo, a dark force out to end her because of a prophecy naming Sophie a seer, heeder, and sayer who will one day defeat him. Shocked and struggling to make sense of her upended world, Sophie doesn't know what to believe. What are the powers of a seer, heeder, or sayer? Nobody seems to know. And how could the prophecy possibly name her PORTAL's savior? She's read countless books about knights in shining armor, but warriors are generally buff males—not clumsy, socially-awkward, seventeen-year-old bookworms. As Sophie discovers the countless ways her life ties back to PORTAL, her eyes are opened to the spiritual realms surrounding her and the wonderful and horrible creatures there, forcing her to choose to have faith in a prophecy she doesn't know if she should believe despite her inadequacies, or run from her supposed destiny at the risk of losing everything she loves.  
(The above text was taken from the back book cover of "Fly: A PORTAL Chronicles Novel" by Melissa Minassian.)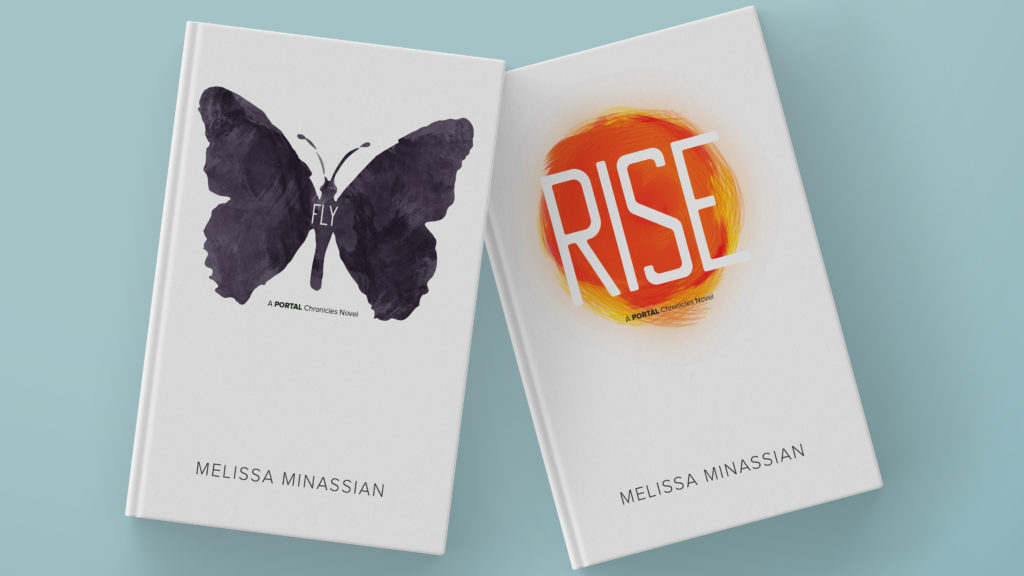 CUSTOM TYPOGRAPHY
A custom typeface complemented by a classic. 
From the initial client meeting, we were introduced with the request to use a butterfly when designing the first cover for "FLY: A PORTAL Chronicles Novel". True to our mission, "clarity by simplicity", we began designing a butterfly layer with multiple textures. Once the butterfly was completed we moved on to typeface. The primary typeface used in the subtitle and author's name is a classic typeface. As for the title typeface, we decided to create a custom typeface, which was continued in use for the second novel.


WEBSITE DESIGN AND DEVELOPMENT
Effective simplicity that was driven by the budget.
With a small budget, a large consideration when designing Melissa's digital platform, we took the approach of a one-page website. Our highlight was her first novel with the promotion of her second. An about section, a place for her blog, and a contact section completed the website. With each book having very strong colors, the first being purple, the second orange, we decided to choose a more subdued color to soften the look.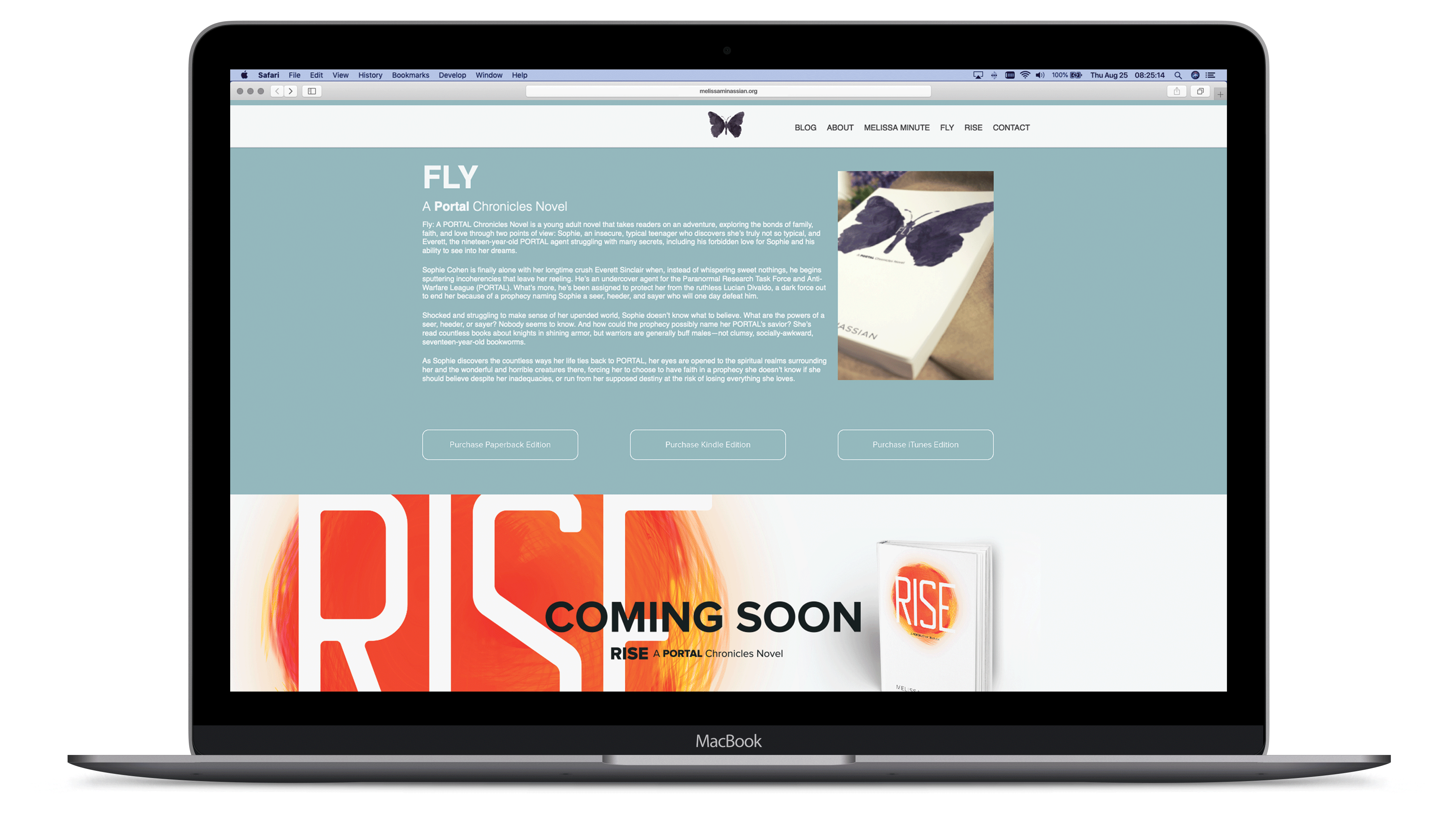 SHARE
---
---
Feeling confused or overwhelmed with developing your brand?
We will help you develop a clear brand for a strong, inspired, and passionate community.